Hotkey Program
Speed
With this multifunctional tool, you can automate tedious and repetitive tasks. You can use keyboard macros, text templates, clipboard history, auto-text, and other functions.
Simplicity
No programming skills are required. Just press the hotkey and get the job done!
Suite
This application contains a keyboard shortcut manager, an on-screen keyboard, a clipboard manager, and a text template manager.
Join over 10,000 satisfied users around the world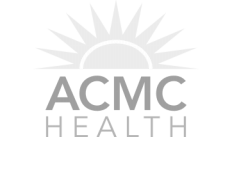 Comfort Keys Pro will help you to
Launch programs and open web pages by pressing a single hotkey.
Insert predefined text (email templates, signatures, passwords, greetings, phone numbers, addresses, etc.) using hotkeys or the built-in template manager.
Change the input language and the selected text to uppercase, lowercase, and so on.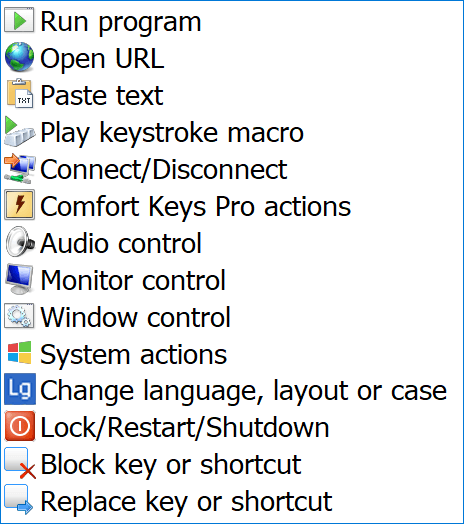 Adjust the sound volume quickly and conveniently.
Record key press sequences (macros) and play them back as many times as needed.
Block some keys or simulate the press of a specific key when another one is pressed.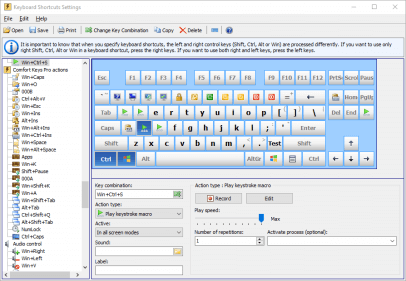 Hotkey Manager
Setting up custom keyboard hotkeys is one of the things that saves you a lot of time every day.
It also makes working with the computer more fun.
Keyboard shortcuts configured in the program execute a command in any application or window.
You can use any keys when specifying keyboard shortcuts, including the Win and Caps Lock keys.
On-Screen Keyboard
This on-screen keyboard is excellent for use on ultra-mobile PCs, tablet computers, kiosks, Surface, etc.
It has additional advantages compared to the regular keyboard and is well suited for people with disabilities.
Learn More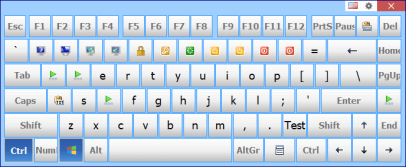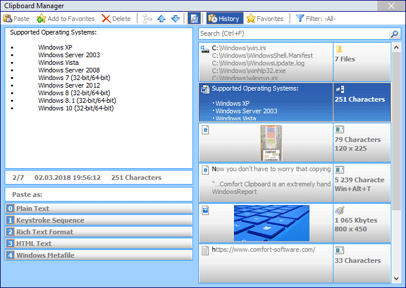 Clipboard Manager
This clipboard manager keeps the clipboard history that you can use to paste any saved fragment again.
The manager supports all clipboard formats, including text, links, images, files, and all others.
Learn More
Text Templates
Quickly paste frequently used phrases, signatures, dates, addresses, greetings, and passwords anywhere.
The built-in text expansion function monitors your typing and searches for a predefined phrase or key combination. When you type one of those predefined words, the auto-text function removes your short version and replaces it with a longer phrase without requiring you to type the entire thing, saving you loads of keystrokes and time.
You can add various macros to the phrases: keystrokes, date, time, tags for inserting random text from a predefined list, etc.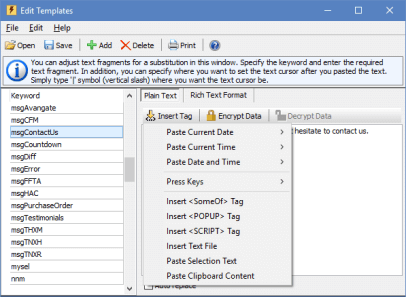 Reviews

WOW!! absolutely fantastic macro tool!! ... Simply by pressing Win+Space, I can access an infinite number of tags i have created, quickly inserting lines of text with just a few keystrokes.
This is amazing, I'm so excited! This is one of the most helpful software what I ever try!
I bought the program about three months ago and I must admit that I'm impressed I can not imagine how he would now work on a laptop without this program.
I am SOOOOOOO grateful….yes the text stuff is a great time saver but for me (one who looks at the keyboard to type) the hotkeys to change ALL my mistakenly typed capital letters (and vise versa) is an absolute blessing. Maybe Windows had it or some other program but I never knew about them. I am one very happy person.
this software is amazing!! i'm buying it right now! Damn where has this been all my life. i'm in love. this can't be real
ideal for umpc without keyboard, far better than standard windows onscreen kb which came with my asus r2h. Now using small mini keyboard great! thanks!
:) Yesss! Finally found an application to be able to Paste-As-Text in MS Office apps. I just setup a hotkey Ctrl-Shift-V to paste as text… perfect! Thank you! It has inbuilt keystrokes macro recorder and editor too, this tool is pretty cool!
Professional program, better than most of those we've been seeing lately. Going to need some time to check out all its features.
Tech Specs
Interface Languages

Supported Operating Systems
Microsoft® Windows® 11 / 10 / 8.1 / 8 / 7 / Vista® / XP
Microsoft Windows Server® 2022 / 2019 / 2016 / 2012 / 2008 / 2003