Improved Clipboard Manager
History
This clipboard manager keeps the clipboard history that you can use to paste any saved fragment again.
Reliability
Now you don't have to worry that copying one thing will erase something else! The clipboard contents will be saved, even in the case of a system crash or power failure.
Any Format
The manager supports all clipboard formats, including text, links, images, files, and all others.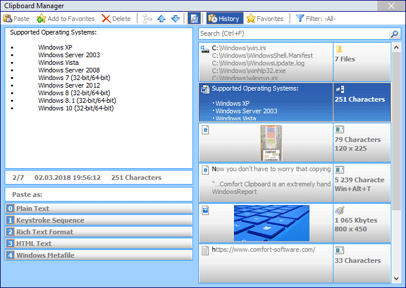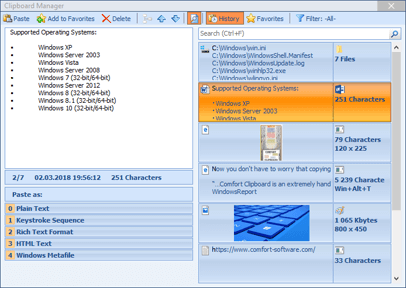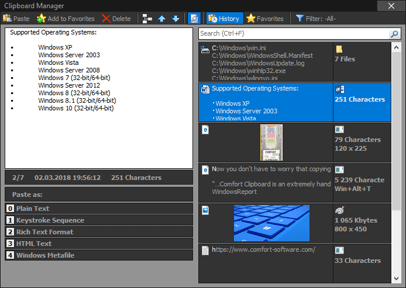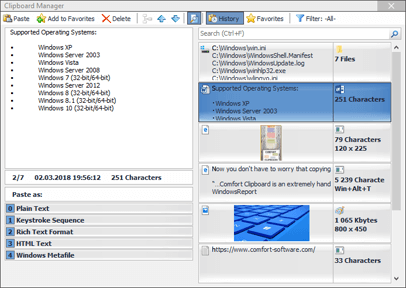 Clipboard History
The following information is displayed for each saved fragment:
Brief fragment contents: a text or an image.
The icon of the fragment's format as defined in your system.
The icon of the application from which the fragment was copied to the clipboard.
Additional brief information for each fragment according to its format.
The list of all formats in which the fragment can be used.
Preview area.
Editing, Colors, and Hotkeys
You can edit any text fragment, set a hotkey for quick paste of the fragment, and set the fragment's color in the list.
For added security, you can assign a display name for any fragment that hides its contents.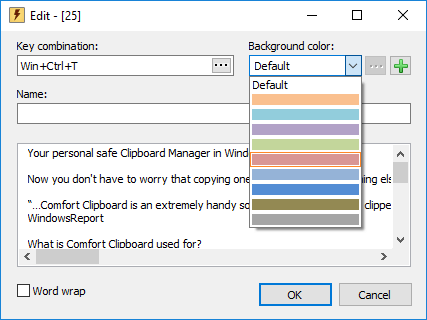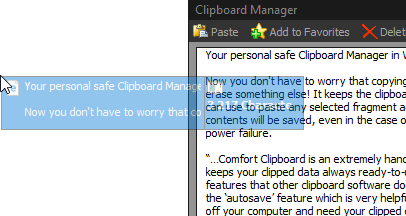 Drag and drop
You can drag any fragment from the clipboard manager to the input field.
No limits
Unlimited number of fragments stored in the clipboard history (by default, 500 fragments are saved).
Hide from prying eyes
You can protect your data with strong 448-bit Blowfish encryption so that nobody can access them without knowing your password.
Formats
All data are copied to the clipboard in several formats at once, so you can select the format you want to use.
Paste several fragments at once
You can select several fragments in the clipboard manager and paste them with one click.
Favorites
An ability to customize favorite clipboard fragments.
Toolbar
The program toolbar in the Windows taskbar.
Filtering
Ability to filter fragments in the clipboard manager.
Exceptions
Ability to specify applications in which the clipboard monitor will be disabled.
Sounds
Ability to assign sounds to program events.
Reviews

…Comfort Clipboard is an extremely handy software that keeps your clipped data always ready-to-use. It has many features that other clipboard software doesn't, especially the 'autosave' feature which is very helpful in case you turn off your computer and need your clipped data from the last session after reboot – you can find them into the program…
...I'm working several weeks with the program, and in comparison with "Clipmate" I can say: It is better. Much easier to handle, not so overloaded with features and so on. Especially the building of "favourite folders" is very easy and a great thing. So thank you for developing this program - and I hope, it will never disappear from the market!
I love, looooove the clipboard, use it two dozen times every day, never want to be without it again. Thank you, again, very much :-P
This is an excellent piece of software, it is the best I found after testing about 12 Clipboard packages. I am currently evaluating this program, and would like to purchase it
Congratulations about this product ! This is very useful software, which helped me to do my job with a lot of ease. I've used a lot of software to try manipulate efficency my clipboard, but this is realy the thing I needed. Thanks to all of You, who decided to write kind of good stuff!
Thank you very much, guys, for the update and the extender as a whole!
Thank you for this genious program!
Tech Specs
Interface Languages

Supported Operating Systems
Microsoft® Windows® 11 / 10 / 8.1 / 8 / 7 / Vista® / XP
Microsoft Windows Server® 2022 / 2019 / 2016 / 2012 / 2008 / 2003